Youth Giving: more than a website
Youth Giving is more than just a website; it's a movement. Every year all over the world, youth (ages 8-30) invest hundreds of thousands of dollars in their communities. They are empowering themselves and finding support through youth grantmaking programs that strengthen their independence, leadership development, and decision-making power. These programs enable youth to grant funds to organizations through established institutions or governing bodies, with the support of community, family, and private foundations, schools, and nonprofit organizations.
While there is a long history of youth giving their time, talent, treasure, and ties, YouthGiving.org is the first time those efforts have been tracked and showcased in one place. While focusing mainly on programs that have grantmaking components, we recognize that when youth make grants, they also learn about their community and about how to make a decision and weigh several important factors. They learn about what kind of difference they can make when they dedicate themselves to a cause.
Youth grantmakers are effecting significant change by contributing to important causes through more than 800 programs all over the world, and the movement is growing.
Project Goals
Share data on the depth and breadth of the youth giving movement.
Build knowledge around process and strategy.
Connect potential partners, and drive collaboration and action.
Site Content and Data
Grants Data
The data that powers this site has been collected in numerous ways including information directly reported by foundations, IRS Forms 990 and 990-PF, foundation websites, news articles, and other public sources.
The data set on the funding map includes foundation funding from 2001 to the present in support of youth philanthropy programs, and where possible, data on grants from youth grantmaking programs to various causes ("youth-driven grants"). As of the site's beta launch, this includes 2,595 foundation grants totaling $61.1 million.
If you would like to see your foundation represented on the platform, consider submitting your grants data. If you have any questions or would like to report any errors in the data, please contact us.
Program Data
The program information compiled in the program directory was collected from websites and from direct outreach to organizations active in this area of work. If you would like to update or add program information to the directory please contact us!
Resources
Resources in our Learn section are items pulled from IssueLab, which works to more effectively gather, index, and share the collective intelligence of the social sector. The reports in this collection were identified and compiled from recommendations of those working in the field; websites of groups focused on youth philanthropy; and additional research. The collection is organized into a learning lifecycle for every stage of involvement in youth grantmaking: getting started, improving current practice, reflecting and evaluating efforts, and growing in philanthropy.
Photos on the site are provided courtesy of Youth Philanthropy Connect.
Expert Posts
This section aims to share strategies, approaches, tips, and tools that build knowledge and catalyze the youth giving movement worldwide. We welcome blog-style contributions for our "Hear from Experts" page, download our guidelines here!
The YouthGiving.org Story
Foundation Center conducted a landscape scan to explore the story and needs of the youth philanthropy field and published a report, Scanning the Landscape of Youth Philanthropy: Observations and Recommendations for Strengthening a Growing Field, in November 2014 with support from the Frieda C. Fox Family Foundation that proposed suggestions for how to strengthen the youth giving movement. Overall, Foundation Center discovered deep stakeholder passion in youth giving work, an eagerness to learn more about who else was doing what and where, and a desire to define and then communicate the impact of these programs to the broader philanthropy field and the public. There was a clear need to create a centralized hub where stories, data, funder profiles, news, and resources could be accessed and used to increase awareness and improve connection within this movement.
With the generous support of the Andrus Family Fund, the Frieda C. Fox Family Foundation, the Conrad N. Hilton Foundation, the Charles Stewart Mott Foundation, the Tarsadia Foundation, and Leading to Change, YouthGiving.org was designed as a sustainable online, curated hub for youth giving to build awareness, knowledge, and collaboration. We hope that expanded coordination among partners and youth will increase transparency, enhance knowledge-sharing on best practices and lessons learned, and shine a spotlight on the impact of youth engagement in philanthropy.
In order to support and scale this movement, we need to make sure people use YouthGiving.org how it was intended – as a gathering place for young people and the adults who support them to raise their voices by sharing expertise, stories, resources, news, outcomes, and ways to engage in grantmaking.
Find out more about how to spread the word about YouthGiving.org! 
Part of a Larger Movement
This site focuses on youth grantmaking, but there are many more components of the youth giving movement. Philanthropy includes volunteerism and service, and is defined by many as "giving of time, talent, treasure, and ties". You'll find some broader resources on the Learn page, but we also recommend checking out these great organizations for additional resources, opportunities, and ideas related to non-grantmaking forms of philanthropy:
Our Team
Meet the team behind YouthGiving.org! In addition to staff members of Foundation Center, the team includes a dynamic advisory committee who provide stellar expertise and guidance to ensure that the site harnesses the knowledge, energy, and breadth of youth grantmakers to tell a story and move towards greater philanthropic impact.
Stephen Alexander Exponent Philanthropy
Sophie Ault Stars Foundation
Jen Bokoff Foundation Center
Shirish Dayal Tarsadia Foundation
Kate Gatto Youth and Philanthropy Initiative
Jill Gordon Youth Philanthropy Initiative of Indiana
Annie Hernandez Frieda C. Fox Family Foundation/Youth Philanthropy Connect
Sammie Holzwarth Foundant
Audrey Jacobs The Community Foundation for Greater Atlanta
Danielle LaJoie Michigan Community Foundations Youth Project
Justin McAuliffe Conrad N. Hilton Foundation
Holly McLellan Youth and Philanthropy Initiative
Ellie Mudge Learning by Giving Foundation
Khayriyyah MuhammadSmith Council of Michigan Foundations
McQuillin Murphy Berks County Community Foundation
Luana Nissan Consultant
Erin Nylen-Wysocki Foundation Center
Kari Pardoe Charles Stewart Mott Foundation
Betsy Peterson Learning to Give
Vernon Ringland YouthBank International
Eric Rowles Leading to Change
Bridget Scanlon Convent of the Sacred Heart
Katherine Scott National Center for Family Philanthropy
Yusill Scribner Palantir
Mike Tracy Tracy Family Foundation
Foundation Center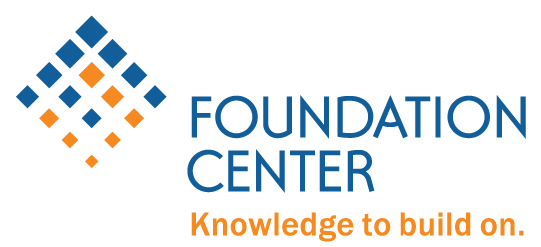 Established in 1956, Foundation Center is the leading source of information about philanthropy worldwide. Through data, analysis, and training, it connects people who want to change the world to the resources they need to succeed. Foundation Center maintains the most comprehensive database on U.S. and, increasingly, global grantmakers and their grants — a robust, accessible knowledge bank for the sector. It also operates research, education, and training programs designed to advance knowledge of philanthropy at every level. Thousands of people visit Foundation Center's website each day and are served in its five regional hubs and its network of more than 400 funding information centers located in public libraries, community foundations, and educational institutions nationwide and around the world. For more information, please visit foundationcenter.org, call (212) 620-4230, or tweet us at @fdncenter.